Etched Metal Company
Aluminum Nameplates
MIL-I-45208 | UL Authorized Label Supplier
Aluminum Nameplates from Etched Metal Company. Versatile Solutions, Affordable and Durable. 
Aluminum Nameplate Product/Service Summary
Aluminum is one of the most cost effective non-ferrous (no iron) materials used to create a durable tag, label, name plate, sign, instrument panel, or custom identification product of your choice. Aluminum nameplates can be anodized, chemically etched, screen printed, or digitally printed on both top and bottom surfaces to display your information. Aluminum nameplates are non-magnetic.
Anodizing aluminum aluminum nameplates offers an increase corrosion resistance to non-ferrous metals forming a layer of oxide on the surface. It also promotes wearability and adhesion of inks, dyes, adhesives, glues and primers.
---
Aluminum Nameplates – Anodizing Information
There are different types of anodizing for aluminum alloys. Type I uses a (chromic) acid base that is mostly used in the aerospace and Defense Department. Type II uses a (sulfuric) acid base that is widely used on all applications including commercial, industrial, and products parts, tags, label, and nameplates. It is by far the most common process used to anodize aluminum alloy for nameplate manufacturing. Type III uses a (sulfuric) acid base with high voltage to form a super hard surface. Type III is not usually colored or dyed. This is used with aluminum nameplates for military equipment and weapons, scratch resistant surface for parts, cookware, and various products. The last type is Type I Photosensitive Anodizing. Type 1 photosensitive anodized aluminum is anodized aluminum that has been impregnated with a silver compound and used in aluminum nameplate manufacturing. This process offers the highest quality imaging and anodizing of durable permanent copy and information. There are color limitations when this process is used for aluminum nameplate production. This application is best utilized for variable copy, barcoding, IUID barcodes labels, and information that need to hold up to environmental elements. This is widely used for aluminum nameplate product identification in military and Defense Department, environmental elements requirement, and nameplate, tags, and label that require a durable, permanent, long term requirement.
Aluminum Nameplates – Chemical Etching
Chemical etching aluminum nameplates offers a permanent copy or image into the metal. Controlled acids are used to dissolve the metal in desired areas and shapes on the aluminum nameplate. Chemical etching removes multi-layer of material in depths of .0015" -.008" to show the desired copy or shapes. Once the layers have been removed, the next process is to determine a cosmetic look to the alloy and aluminum nameplate. A natural look called "NO FILL" give a contrast of the aluminum, or selecting an option to fill a wide array of colors to support your graphic presentation in your aluminum nameplates. We can add protective coatings or films to protect the aluminum nameplate surface from scratches, solvents, UV fading, and environmental elements.
Aluminum Nameplates – Screen Printing
Screen printing on aluminum nameplates offers a strong, reliable process with a wide array of colors to support your graphic presentation. Your image or information is printed on the surface of the aluminum nameplate. We can add protective coatings or films to protect the aluminum nameplate surface from scratches, solvents, UV fading, and environmental elements. Anodizing the aluminum nameplate will increase the corrosion resistance, wearability and adhesion of inks, adhesives, glues and primers.
Aluminum Nameplates – Digital Printing
Digital Printing on aluminum nameplates offers the ability to print variable information, full color images with half tones and provides a cost effective way to manufacture a nameplate. We can add protective coatings or films to protect the nameplate surface from scratches, solvents, UV fading, and environmental elements. This process is often used for small quantity runs of aluminum nameplates. It is also used if a full color image or logo must be incorporated.
Aluminum Nameplates – Best Use
Aluminum is light weight material that is adaptable to almost any application. Aluminum nameplates are a versatile solution to all industries and styles of product identification requirements. Aluminum nameplates offer a vast number of option for sizes, custom shapes, serializing, barcode, emboss, forming and bending.
Aluminum Nameplates – Materials available:
Aluminum series stock available is 1100, 2024, 3003, 5005, 5052, 6061 and photosensitive. See a material not listed, please inquiry to your sales representative. Customer supplied materials or components welcome.
Common material thicknesses range from .003" – .25" (Inches)
Aluminum Nameplates – Order quantities:
No minimum order quantity!! Whether it is one piece or tens of thousands of pieces, we will produce your part, tag, label, or name plate with the highest quality with the latest capabilities offered at Etched Metal Company.
Aluminum Nameplates – Production Time/Shipment Methods:
Lead Time is 22 – 28 working day from receipt of order. We will work with customers on specified deadline and expedited orders requirements. All orders are FOB Solon, Ohio 44139.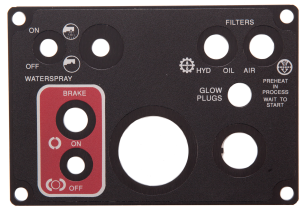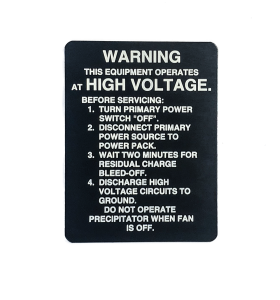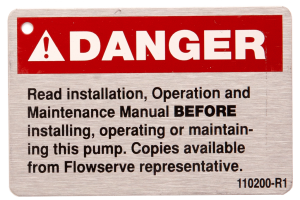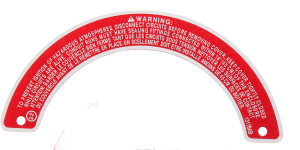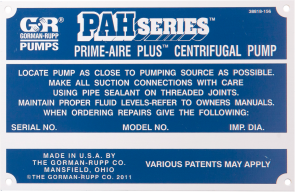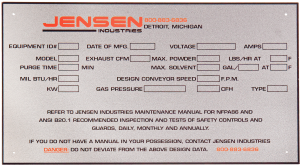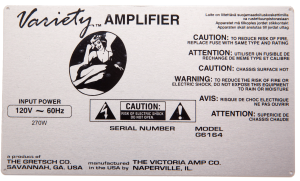 Etched Metal has proven to be a wonderful supplier, time and time again. I've issued countless requests, varying levels of urgency, and the requests are always met with earnest attention and top-notch service. Every single time.Their level of genuine commitment and service are unmatched, always appreciated and unwavering. Etched Metal is exactly who you want to do business with.
Scott -Thank you for another year of on time and correctly made labels
For the past twenty years all of my amps have been graced with front and rear panels designed and created by Etched Metals.Their Quality is first rate, Lead times are short, and their Pricing is VERY reasonable.I get all my panels and labels from Etched Metal exclusively, I don't even look anywhere else.
Etched Metal has been a reliable supplier of ours for many years, and have received numerous supplier scorecard awards from us for their consistent on time-delivery and excellent quality.
We've been using Etched Metal for the last 11 years+ and no matter what the scope of the job, they've always come through for me even under tight deadlines. Consistently top quality product and service! They are THE ONLY company I use for the face and back plates for my hand made amplifiers!
Our company has been doing business with Etched Metal for over 20 years. We only have positive things to say about Etched Metal. Customer service, on time delivery, and quality are outstanding!!
Pete, Etched Metal Company is a great company to work with.You and your staff always jump through hoops to make our deliveries it happen.
Pete, Etched Metal delivers on time, quality product all with excellent customer service.What more could you ask for?
We have been doing business with Etched Metal for almost 20 years. They are easy to work with and help with design and development of new overlays, labels and control panels. They have not delivered late since we began tracking this metric in 2008.They are flexible in their ability to manufacture small, custom labels up to large fabricated and etched control panels. Their quality is excellent and we have not had any rejects or rework as a result of poor quality.We have been very happy with their service, quality and helpful staff
Pete, Etched Metal Company is a great company to work with.You and your staff always jump through hoops to make our deliveries it happen.
We have been getting all types of tags from Etched Metal for several years.At least 12 which is as long as I have been the buyer for this commodity.Etched Metal has always been very responsive to our needs even when needed in shorter than quoted lead times.Etched Metal has always been good to work with and very responsive to any and all inquiries. They return quotes promptly and address any issues that may arise in a very timely and professional manner.They are easy and a pleasure to work with from quoting to invoicing.
Etched Metal Company in Solon is a good business partner.Many of our custom manufactured products are time sensitive,labeling is one of the last processes prior to shipment. Etched Metal has responded to our urgent needs with high quality and quick services.From large to small production runs, tough adhesion applications, product branding,and newer cost efficient technologies.Etched Metal Company continues to add value as a supplier.
Our company and Etched Metal Company have been partnering for years. They have the proven ability to manufacture defect free metal components from design to product realization. Their team of professionals work in conjunction with customers to provide proof of concept samples and on-time delivery to meet the ultimate customer's requirements.
Providing unrivaled customer service since 1928
Our expert Account Representatives assist you through the duration of your order–from initial design specifications through shipping and delivery.
We deliver prompt, no-charge accurate estimates and offer time and money-saving suggestions when needed. Our goal is not to just make a sale, but to build a long-term relationship with our clients.
Etched Metal's production systems allow us to keep a watchful eye on your nameplate project, making sure we deliver on the date you expect.
We understand that market conditions often affect the availability of materials needed, and we alert you to any issues that may arise.
Lastly, you are always welcome to call or email your Account Representative if you need to make revisions to your specifications or delivery requirements.
We specialize in meeting your production demands with on-time deliveries!
Like to see samples of our work? Give us a call or email us and we'll send out a sample kit for your review. As a direct manufacturer, brokers always welcome!
Etched Metal Company is located at:
30200 Solon Industrial Parkway
Solon, OH 44139
440-248-0240
800-383-0240
FAX 440-248-3556